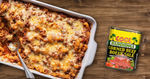 Servings: 6 servings | Prep time: 10 minutes | Cooking time: 25 minutes
Ingredients  


 

12 oz, macaroni
1 can of Cool Runnings corned beef
1 cup grated cheese
¾ cup thinly sliced onion
⅓ cup chopped tomato
1 egg, slightly beaten
½ cup milk
¼ cup ketchup
1 tsp, salt
hot pepper to taste



Directions


1. Boil macaroni in boiling salted water until tender, drain and rinse in cold water.

2. In the same pan, put flaked corned beef, onion and tomato; cook for a few minutes and remove from heat.

3. In a large dish combine macaroni, egg, milk, ketchup, salt, pepper, corned beef mixture and ¾ cup cheese.

4. Place in greased dish, sprinkle with remaining cheese and bake in a preheated oven for 20 minutes at 375F.