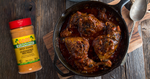 Ingredients  


 




Directions


1. Season the chicken with Cool Runnings chicken seasoning. Let the chicken marinate overnight or at least an hour before frying.

2. When ready, grab a pan and heat some cooking oil on high heat. Let chicken cook for 2 - 3 minutes on each side, until it is browned. Remove the chicken from pan.

3. Remove half of the cooking oil in the pan and use the remaining oil to fry the onions and bell peppers. Fry until the onions are transparent.

4. Next, add thyme, salt, hot pepper sauce, ketchup and 1 cup of hot water to pan. Taste the gravy and add more salt if needed, let the gravy simmer for 5 minutes.


5. Add the chicken back into the pan with the gravy. Add 1/2 to 1 cup of hot water and turn heat to Low and cover pan. Let the chicken simmer for 30 minutes, to allow the gravy to thicken and the meat to become tender.

6. If the gravy is still watery after 30 minutes, remove the chicken and let the gravy simmer on Medium until it thickens. Then put the chicken back in the pan spooning the gravy over it and simmering for a few minutes to warm through.