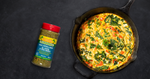 Serves: 4 | Preparation time: 15 minutes | Cooking time: 20 minutes
Ingredients




8 large eggs
1/4 cup milk
1 tablespoon olive oil
1 red bell pepper, chopped
1 yellow bell pepper, chopped
1 small onion, chopped
2 cups fresh spinach, chopped
1/4 cup grated Parmesan cheese
Salt and pepper to taste



Directions


1. Preheat your oven to 350°F (175°C).

2. Heat the olive oil in a large oven-safe skillet over medium heat. Add the chopped bell peppers and onion and sauté for 5-7 minutes, until they're soft and slightly browned.

3. Add the chopped spinach to the skillet and sauté for another 2-3 minutes, until wilted.

4. In a separate bowl, whisk together the eggs, milk, salt, pepper, and Cool Runnings Garlic Pepper and Herbs Seasoning.

5. Pour the egg mixture over the vegetables in the skillet and use a spatula to distribute everything evenly. Cook for 2-3 minutes, or until the eggs start to set around the edges.

6. Sprinkle the grated Parmesan cheese over the top of the frittata.

7. Transfer the skillet to the preheated oven and bake for 12-15 minutes, or until the eggs are set and the cheese is melted and golden brown.

8. Once done, remove the skillet from the oven and let it cool for a few minutes before slicing and serving.