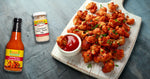 Serves: 4 servings | Prep time: 5 minutes | Cooking time: 40 minutes
Ingredients




Directions


1. Preheat your oven to 450 F and line your baking sheet with some parchment paper.

2. Prepare the cauliflower by breaking the head into smaller florets, about about 1 ½ inches wide. Now in a large mixing bowl, make the batter by mixing together the flour, paprika, garlic powder, salt, pepper and milk. Mix well.

3. Add the cauliflower florets into the batter, making sure each piece is evenly coated. Arrange the coated cauliflowers on to the baking sheet and throw them in the oven for 20 minutes. Make sure to flip the cauliflowers, halfway into baking them.

4. In another small bowl, combine the buffalo sauce, coconut oil and honey, and stir until it is mixed well together. Brush the buffalo sauce mixture onto the cauliflower florets and bake for another 20 minutes.

5. Serve with ranch.