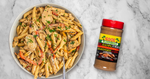 Ingredients




1 pound of penne pasta

2 chicken breasts or 2 cups of shredded rotisserie chicken

2 tbsp. vegetable oil

3 bell peppers (different colours for more color and sliced)

½ cup green onions sliced

2 cloves garlic (minced)

¼ cup  vegetable or chicken stock

½ cup heavy cream

½ cup parmesan cheese grated




Directions


1. Bring a large pot to a boil and cook the pasta according to the package instructions.

2. 

Cut the chicken breast into cubes and toss it in 1.5 tbsp of the jerk seasoning spice. Using 1 tbsp. of vegetable oil on a pan, cook the chicken until it is golden and cooked through. Remove the chicken from the pot and set aside.



3. In a heavy-bottomed pot, add 1 tbsp. of vegetable oil and sauté the bell peppers and green onions. Add the minced garlic and cook until fragrant.

4. Add the remaining jerk seasoning spice to the pot.

5. Add the heavy cream, chicken, and vegetable stock to the pot. Simmer for a few minutes, letting the sauce thicken. Mix the parmesan cheese into the sauce and add the pasta.

6. 

Garnish with chopped chives, green onions or parsley and serve hot!