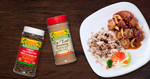 Ingredients




Directions


1.

Toss thawed oxtail in 1 tablespoon Cool Runnings oxtail seasoning, and marinate overnight in the refrigerator.



2.

In a pan, melt the British Class coconut oil and brown marinated oxtail for 2-3 minutes on each side. In the end, toss in diced onions and garlic to brown slightly.



3.

Put browned oxtail into the pressure cooker, then add scotch bonnet pepper (optional), beef broth, gravy browning, scallions, diced tomatoes, Cool Runnings allspice whole berries, thyme, and butter beans.



4.

Cook in a pressure cooker for 35-45 minutes until the oxtail is tender.



5. 

Remove the lid from the pressure cooker when it is safe to do so, skim off the fat and discard if you prefer, add a few dashes of Maggi seasoning sauce to taste, and cook (lid off) for an additional 20-30 minutes until the sauce has thickened.