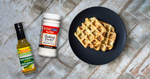 Servings: 8 servings | Prep time: 10 minutes | Cooking time: 40 minutes
Ingredients  




2 cups all-purpose flour
2 cups whole milk
2 large eggs
1 cup shredded sharp Cheddar
1 stick of unsalted butter, melted
3 to 4 scallions, chopped, whites and greens separated
2 tablespoons sugar
2 teaspoons of British Class baking powder
7 to 8 dashes of Cool Runnings jalapeno pepper sauce
2 teaspoons kosher salt, plus a pinch
Nonstick cooking spray, for the waffle iron


Directions


1. Preheat oven to 250°F, make sure to have a rack in the middle of the oven. Place a baking sheet fitted with a wire rack in the oven.

2. In a large mixing bowl, whisk together the flour, cheddar, sugar, baking powder, hot sauce, scallion whites and salt. Set aside.

3. In another large bowl, whisk the eggs and a pinch of salt until it is broken up, then add the milk and whisk together. Pour in the melted butter into the bowl and whisk some more until it is combined. 

4. Add the wet ingredients to the dry ingredients and stir with a rubber spatula until the flour is just incorporated and no streaks remain. It is okay for the batter to have a few lumps.

5. Now, preheat your Belgian waffle iron to medium heat. Spray some nonstick cooking spray on it when ready and add some batter. Close the lid, and cook until the steam starts to diminish. Take a peak to check if it is done. Transfer the waffle to the wire rack in the oven to keep warm. Keep repeating until you have no more batter left! 

6. Serve with some maple syrup and even some chicken. Enjoy!