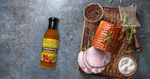 Yield: 10 servings
Ingredients




Directions


1.

Preheat oven to 325°F.



2.

Place ham in a roasting pan with the thicker skin side up.



3.

Pour ½ cup of water in the roasting pan, cover with foil and bake for 1½ hours.



4.

Remove the pan from the oven, remove the foil and score the rind creating a diamond pattern on top.



5. 

Brush the ham thoroughly with half of 

Cool Runnings BBQ Honey Mustard Sauce

 and return to the oven for another 10 minutes.



6.

Brush the ham with the remaining sauce and bake until the internal temperature reaches 145°F. Make sure the thermometer is in the meat and doesn't touch the bone.



7.

Remove from the oven and let it rest for at least 20 minutes before slicing.



8. Enjoy.
Tip: Do you have more or less ham? No problem! Use one bottle of Cool Runnings BBQ Honey Mustard Sauce per pound of ham.