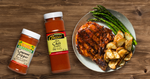 Serves: 8 servings | Prep time: 30 minutes 
Ingredients




Directions


1. Take a medium saucepan and heat up the oil and garlic, stirring occasionally, or until the garlic starts to sizzle(do not let it brown). Add the chili powder and cayenne to the garlic and cook for another minute.

2. To make the BBQ sauce, add the ketchup, bourbon, molasses, vinegar, sugar, mustard and Worcestershire sauce. Let the sauce simmer and slightly thicken, remember to stir occasionally, this should take 12 - 15 minutes. Season to taste with some salt and pepper

3. Heat up the grill to a medium-high heat. Season the pork chops with some salt and pepper, and put on the grill. Grill for about 10 to 14 minutes, make sure to turn it once, use a thermometer and insert it into the thickest part of the pork chops and make sure the internal temperature hits 135°F. Baste the pork chop with the BBQ glaze (

about 2/3 cup) 

in the last 4 minutes of grilling. Transfer to a plate and bate again. Serve with the remaining glaze.