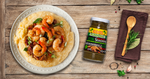 Servings: 2 servings | Prep time: 10 minutes | Cooking time: 10 minutes
Ingredients  




2 tbsp. of Cool Runnings jerk seasoning hot
8-10 peeled and deveined shrimp
1 cup of unboiled grits
1/4 cup of Cheese
Olive oil 
Milk (optional)
2 pinches of salt


Directions


1. In a medium bowl, season the peeled and deveined shrimp with Cool Runnings jerk seasoning and set aside. 

2. Bring a pot of salted water to a boil . Add the grits into the pot and let it thicken, make sure to stir it occasionally. Reduce heat and add milk and cheese for additional flavours.  

3. Preheat a skillet with oil to cook the shrimp. Add the seasoned shrimp to the preheated skillet and cook the shrimps until opaque. 

4. Once the grits are at your desired consistency, remove from heat. Transfer the grits into bowls and add shrimp on top to serve.