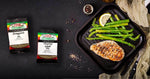 Ingredients  



Directions


1. Take a mixing bowl and combine the oregano, thyme, basil, garlic and some salt and pepper. 

2.  Lay the chicken breasts out on a baking sheet and sprinkle both sides of the chicken with the seasoning and rub it in. Drizzle olive oil on both sides of the chicken. Place the chicken on the grill over medium heat. Let chicken cook for 5 - 7 minutes on both sides, the juices should run clear. 

3. Remove chicken from heat and let it cool for 5 minutes before cutting. Serve with your choice of rice or pasta and enjoy!